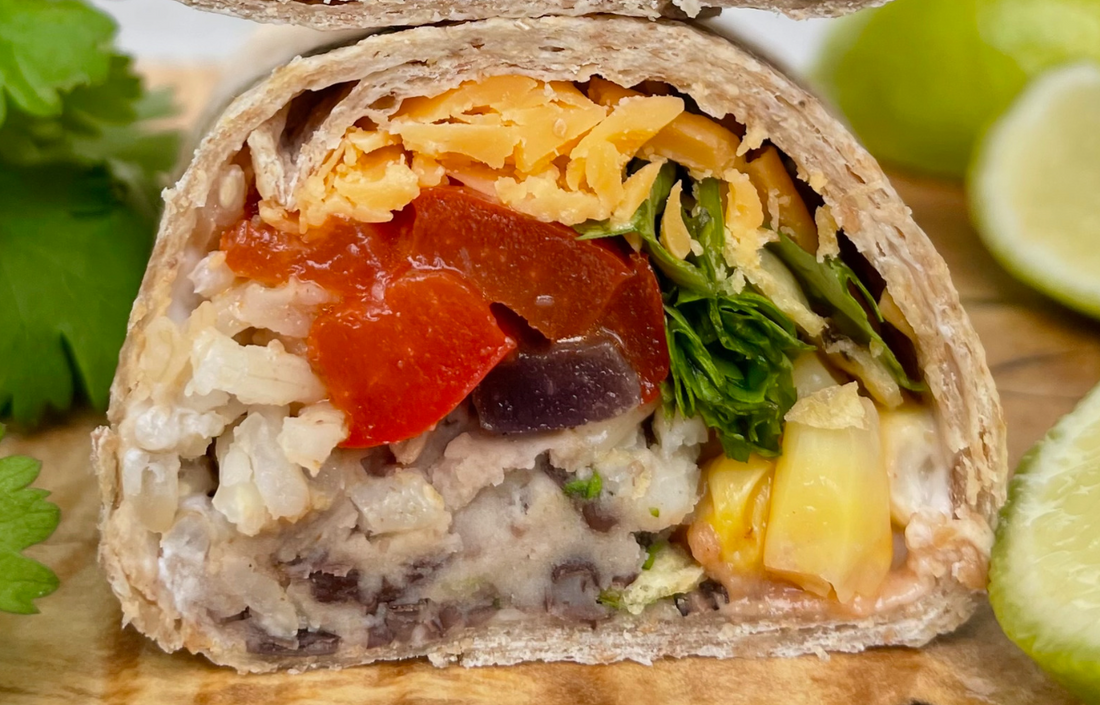 Looking for a family-friendly recipe that is both easy on the palate and easy on the budget? Look no further. This bean burrito recipe comes together quick and provides your family with a balanced meal that is both totally tasty and honestly healthy.
As a bonus, this recipe can be made plant-based, gluten free, and dairy-free, so feel free to customize the ingredients to suit your family's dietary needs.
Balanced Bean Burritos
Serves 4
Ingredients:
Rice:
1 cup uncooked brown rice, rinsed
Refried beans:
1 tbsp olive oil
1 garlic clove, minced
½ tsp cumin
1 can (19 oz) black beans, drained and rinsed
4 tbsp vegetable broth
Small handful of cilantro leaves
Bell pepper mixture:
1 tbsp olive oil
1 red bell pepper, thinly sliced
1 yellow bell pepper, thinly sliced
1 red onion, thinly sliced
½ tsp cumin
½ tsp chili powder
Tortillas & toppings:
4 large whole grain tortilla shells (or substitute for a gluten free variety)
1 cup frozen corn kernels, thawed
1 ripe avocado, sliced
1 lime, cut into 4 slices
Small handful of cilantro
Small handful of organic corn tortilla chips
1 cup low fat cheddar cheese, shredded (optional)
¼ cup low fat Greek yogurt (optional)
1 tbsp Sriracha sauce (optional)
Directions:
Prepare the brown rice according to package instructions and set aside.
Prepare the refried black beans by heating 1 tbsp olive oil in a medium pan over medium heat with the minced garlic clove until fragrant, about 1 minute. Add drained beans, cumin, and salt and pepper to taste. Mash them with a potato masher and add 1-4 tablespoons of low sodium vegetable broth to attain desired consistency. Cook for about 5 minutes total. Remove from heat, sprinkle with cilantro, and set aside.
In a medium pan, over medium heat, add 1 tbsp olive oil, and then add the red and yellow bell peppers and red onion. Add cumin, chili powder, and salt and pepper to taste. Cook until tender, while stirring occasionally, about 12 minutes total. If the pan gets too dry, add 1 tbsp water. Set aside.
Now it's time to assembly your burritos! Grab your tortilla of choice and add the refried beans, then brown rice, then bell pepper mixture. Add shredded cheddar (if using), corn, Greek yogurt (if using), avocado slice, a drizzle of sriracha sauce (if using), a squeeze of lime juice, a sprinkle of fresh cilantro and corn tortilla chips (for added crunch).
Wrap them up by tucking in the ends to keep everything together. You can serve as is or put in a sandwich press for a toasted texture.
Notes: To save time on those busy weeknights, the brown rice, refried beans, and bell pepper mixture can be prepared a day in advance and stored in the fridge.
Enjoy!