Green Soup with Crunchy Protein Topping Recipe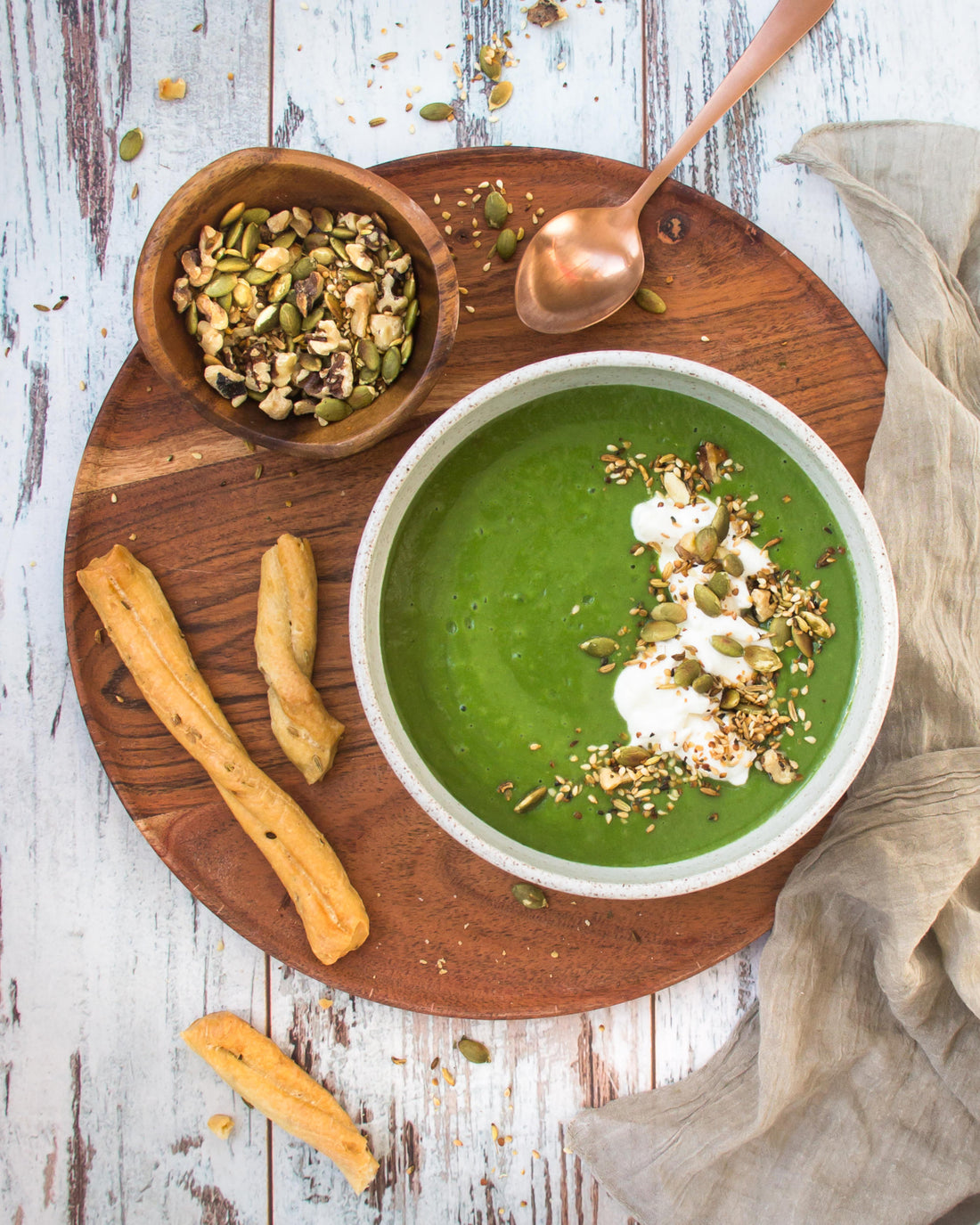 Ingredients :
Soup:
250 mL (1 cup) French shallot, chopped
2 cloves garlic, chopped
30 mL (2 tbsp.) butter
500 mL (2 cups) unpeeled potatoes, diced
1.5 L (6 cups) broccoli, florets and peeled stems, cubed
1 L (4 cups) vegetable broth
1 bag of 171 g (6 oz.) fresh spinach
Salt and pepper to taste
Topping:
30 mL (2 tbsp.) walnuts, in pieces
30 mL (2 tbsp.) pumpkin seeds
15 mL (1 tbsp.) sesame seeds
15 mL (1 tablespoon) hemp seeds
7.5 mL (1/2 tablespoon) fennel seeds
125 mL (1/2 cup) plain Greek yogurt
Directions:
In a saucepan over medium heat, sweat shallot and garlic in butter for 3 minutes.
Add potatoes, broccoli and broth and bring to a boil. Reduce heat and let it simmer while being covered for 15 minutes.
Meanwhile, in a skillet over medium-high heat, dry-brown the nuts and seeds. Set aside.
When potatoes are tender, add spinach. Add salt and pepper to taste. Mix and blend in a blender to obtain a smooth texture.
Right before serving, garnish the soup with a generous spoonful of yogurt and toasted seeds.
Makes: 2 L (8 cups)
Prep Time: 15 minutes
Cooking Time: 18 minutes
Freezing: Yes (without topping)