Omega-3 Green Salad Recipe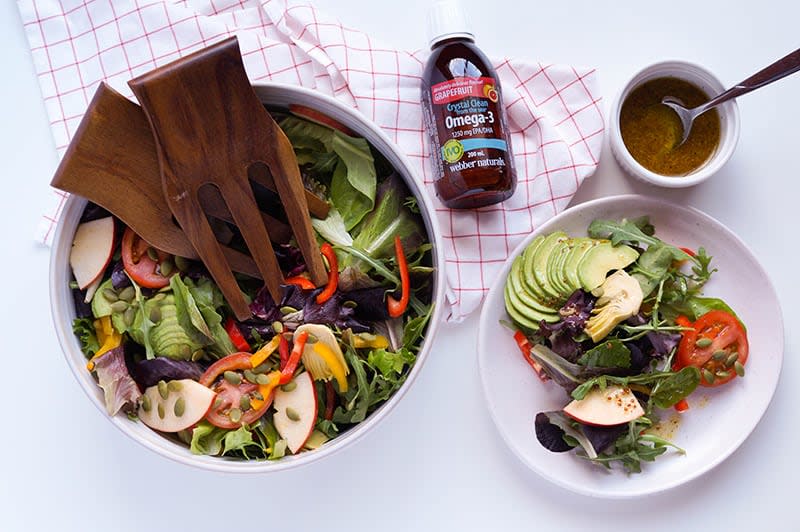 This brightly coloured salad includes a variety of delicious vegetables, including sliced bell peppers, whole artichokes and avocado, with some apple added for sweetness. The dressing includes Omega-3 fish oil for heart health, or alternatively you can use flaxseed oil to make this recipe vegan. 
Yield: 4 side salad servings
Ingredients – Dressing:
2 tsp Omega-3 fish oil, grapefruit flavour (or 2 tsp flaxseed oil)
1 tbsp olive oil
1 tbsp raw honey
2 tsp grainy dijon mustard
2 tbsp lemon juice
⅛ tsp fine sea salt
⅛ tsp ground black pepper

Instructions:
Whisk the dressing ingredients until well combined.
Taste and adjust if needed. Set aside.

Ingredients – Salad:
4 cups (packed) salad greens of choice (3 cups mixed greens and 1 cup arugula shown)
1 cup sliced bell peppers (red, orange or yellow)
1 – 398 mL can whole artichokes, sliced
2 ripe roma tomatoes, sliced
1 ripe avocado, sliced
1 small gala apple, sliced
2 tbsp salted pumpkin seeds

Instructions:
Clean and prepare ingredients as indicated.
Layer salad in order of ingredients listed, starting with salad greens at the bottom.
Serve with dressing on the side or toss together right before serving.