Best Superfood Ingredients for Your Antioxidant Smoothie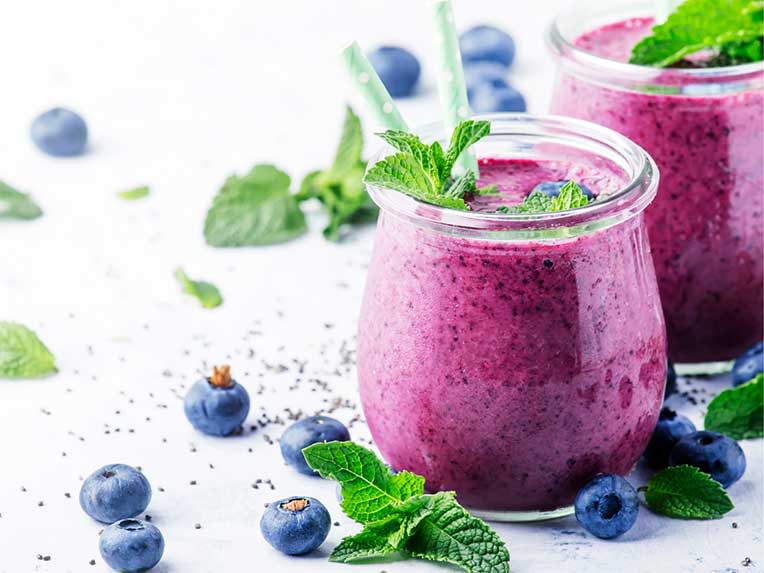 Whether you're looking to revamp your smoothie style or are making smoothies for the first time, here are some top tips for a great-tasting antioxidant smoothie.
Clever Combinations for Smoothies You'll Love
The key to a good smoothie is mastering the clever combination of healthy liquids, special supplements and superfoods, and those all-important fruits and veggies. If you're completely new to smoothie making, this can be a bit daunting. But don't worry, we're here to help!
Healthy Liquids
To make a smoothie, well, smooth, you're going to need some liquid ingredients. Fruits and veggies add a bit of liquid, but it's also good to add at least one of the following to make sure everything mixes up nicely and isn't too thick:
Unsweetened almond, rice, hemp, oat, or soy milk
Cold herbal teas
Plain water
Fresh juice
These all have different thicknesses and varied nutrient and calorie profiles, so your choice will depend on how thick and creamy you like your smoothie, as well as your nutrient needs.

Herbal teas such as ginger and lemon, green, white, or cinnamon spice can help support good digestion, antioxidant status, and general health without adding extra calories or sugar. They also make for a thinner smoothie that can be easier to drink if you have difficulty swallowing thicker liquids.
Fortified non-dairy milks can add protein as well as calcium, iron, and vitamins B12 and D. Check the labels to see if your chosen liquid contributes to your daily need for these nutrients.
Juice is often high in sugar, so it's best not to add too much. Depending on the kind of juice, it can offer additional vitamins and minerals and may be fortified with essential nutrients such as vitamin D.
Fruits and Veggies
Bananas are a smoothie staple as they help thicken things up and create a great base. But what other fruits and veggies are good to add to the mix?

To really pack in nutrients, make a daily smoothie with high ORAC-value foods. What's an ORAC value? To help you in your quest for nutritious foods, the National Institute on Aging (NIA) at the National Institutes of Health (NIH) devised a unit of measurement called the Oxygen Radical Absorbance Capacity (ORAC).

The ORAC value of foods tells you how helpful they can be in protecting against free radicals and oxidative damage. This kind of damage to cells is thought to contribute in large part to a variety of age-related diseases and conditions.
Some of the highest ORAC foods that can work well in smoothies include: 
Pecans – use pecan butter or grind pecans first with a bit of water or non-dairy milk
Ginger root – grate or cut into slices (unless you have a really powerful blender)
Black chia seeds – these can gel up, so add at the end
Wild blueberries – pick them fresh and keep them in the freezer for easy smoothie making all year round!
Red delicious apples with skin – core these first to remove the seeds
Goji berries – use sparingly and do a taste test first – most people either love them or hate them
Kale (fresh) or spinach – add a cup of kale to your blender for extra folic acid, iron, and vitamin C
Feeling a little more adventurous and want to take your smoothie game to the next level? Here are some of the best antioxidant smoothie ingredients you're unlikely to see in a lacklustre store-bought drink:
Avocado
Indian gooseberry (amla berries), dried
Peppermint leaves, dried or fresh
Baobab fruit powder, dried
Vanilla bean spice, dried
Acai Berry
Rose hips
Nutmeg, cinnamon, turmeric (ground)
Cacao nibs or cocoa powder (unsweetened).
That's right, many of the best sources of antioxidants are herbs and spices. While you can't use spices alone to make a great-tasting smoothie, it's definitely worth including some in small amounts in your next concoction.

Many other, more common household herbs and spices, including oregano, cloves, and thyme, are also rich in antioxidants. Just remember that a dried spice or herb is more concentrated than fresh, so don't overdo it! Often, a quarter teaspoon is plenty.
Fun Smoothie Recipes
The perfect smoothie is definitely a matter of personal preference, but there are some tried and true combinations that make for a delicious and nutritious smoothie likely to satisfy most palates.
Green Goddess Smoothie
½ avocado
1 apple, cored and cut into chunks before blending
1 banana (can be fresh or frozen)
1½ cups fresh spinach or kale
1 Tbsp of chia seeds
1 cup of unsweetened non-dairy milk of your choice 
Add everything to a blender and blitz until smooth. If it's too thick, add a little more milk until it's the consistency you prefer.
Ginger Spice Smoothie

1 banana (can be fresh or frozen)
1-inch freshly peeled ginger root
A pinch of cayenne pepper (if you dare!)
¼ tsp ground ginger
½ tsp ground cinnamon
2 tsp honey or maple syrup
1 tbsp molasses (a great source of iron!)
½ cup non-dairy milk
1 cup ice cubes (or ½ cup water if you want it at room temperature)
Add all the ingredients to your blender except for the ice and blend until smooth. Add the ice or water to get to your desired consistency. For a warming but not hot smoothie, omit the cayenne and add a little nutmeg instead.
Chocolate Pudding Smoothie

1 banana (frozen or fresh)
½ avocado
⅓ cup mixed berries (blackberries, blueberries, raspberries, frozen or fresh)
1 tbsp cacao nibs and/or 2 tsp cocoa powder (unsweetened)
1 tsp vanilla extract
2 tsp maple syrup or agave
½ cup of non-dairy milk or light coconut milk
Add everything to your blender and blend until smooth. This might take a little longer if you're using cacao nibs, unless you grind these first in a nut mill. A fun variation on this is to switch out the avocado for two tablespoons of peanut butter, almond butter, or pecan butter.
Special Supplements
If you have a specific health goal in mind, such as supporting muscle growth, blood glucose regulation, skin health, eyesight, or joint health, you might want to add special supplements to your smoothie. These might include:
L-glutamine powder
Essential fatty acids (algal oil, flax oil, or ground flaxseed)
Spirulina
Chlorella
Once you've chosen your flavour combinations, add your ingredients to a high-powered blender (recommended if using nuts, seeds, and dried fruit) and blend until smooth. For a refreshing summer smoothie, add a little ice and blend again before serving.

If the smoothie is too thick, add some water or extra non-dairy milk or juice as fits the flavour profile. If adding a fibre supplement, mix your smoothie only when you're ready to drink it, so the fibre doesn't gel too much and make the smoothie too thick.

The Right Fibre 4® is a great option as this low FODMAP certified fibre supplement dissolves completely, mixes clear, and is tasteless and non-gritty. In most cases, these supplements are available in powder form, meaning you can just add a scoop as recommended on the label.
Protein is a great addition to help balance nutrient intake and make you feel fuller for longer. Fibre, meanwhile, can help slow down the digestion of the natural sugars in fruits and fruit juice, so you don't get a sudden spike in blood sugar.

Add a scoop of plant-based protein powder or fibre along with a little extra liquid, so the smoothie isn't too thick. And if you're looking for a powerful punch of plant-based nutrition, add a scoop of a green-food powder such as All Greens Superfood Powder.