Peach and Walnut Steel Cut Oatmeal Recipe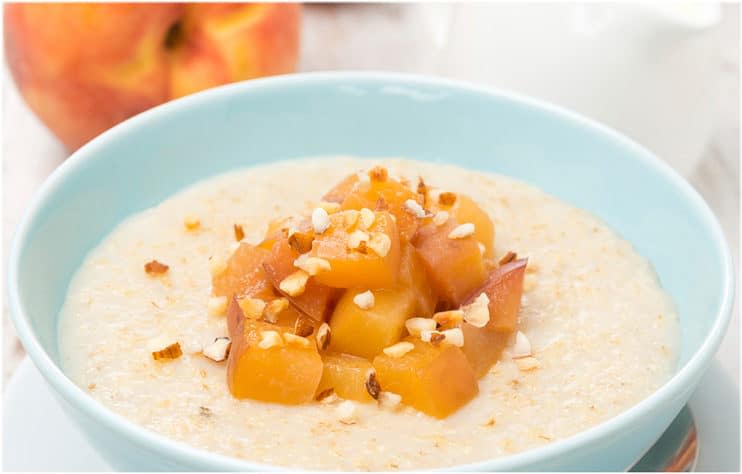 When you begin your day fueled by steel cut oats, you don't look back. They're the engine behind many early morning workouts, successful business meetings, and well-focused students.
Steel cut oats are a low glycemic index food, meaning they help keep blood sugar and energy levels steady. A one-quarter cup of uncooked oats delivers 29 g of carbohydrates, 5 g of fibre, 7 g of protein, and 10 % of your recommended Daily Value (DV) of iron.
Oatmeal is easy to digest and a great option if you follow a gluten-free diet. Steel cut varieties take a little longer to cook, but when it comes to nutrition, they beat the fast-cooking varieties hands down. The slightly nutty flavour pairs well with fresh or dried fruit, nuts, seeds, and dairy. Try this recipe for a breakfast your whole family will love. 
Serves 4
Ingredients:
3 cups water
¼ tsp. salt
1 cup steel cut oats*
½ cup chopped walnuts
1 cup fresh or unsweetened canned peaches, chopped
1 tsp. pure vanilla extract
Greek yogurt
Directions:
In a pot, bring water and salt to a boil.
Add oats, reduce heat to low, and let simmer for 20 minutes. Keep covered and stir approximately every 5 minutes.
Mix in walnuts and peaches until they are warm, then remove from heat and stir in vanilla. Serve topped with a tablespoon of Greek yogurt.
*Steel cut oats must be used for this recipe to achieve the desired results. If you are short on time in the morning, prepare the oats in a slow-cooker overnight for a ready-to-eat breakfast on demand.