Rise & Shine Smoothie Recipe for Glowing Skin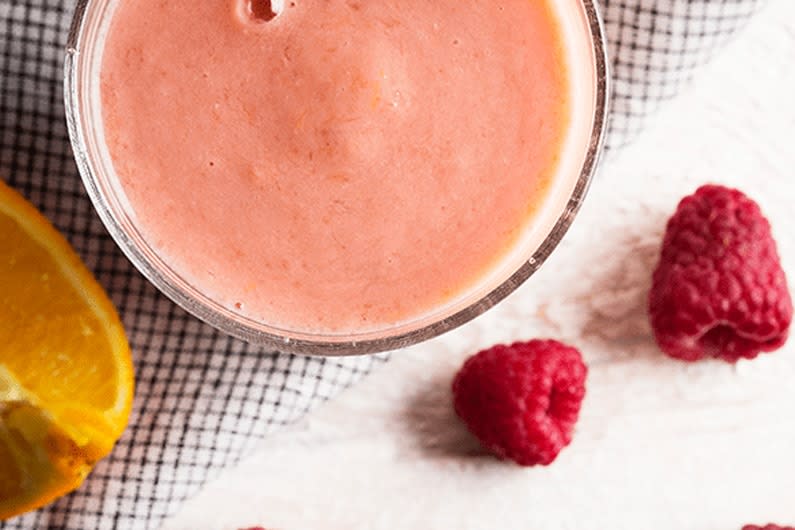 Get gorgeous, glowing skin with this tropical smoothie, which includes Collagen30 powder for healthier skin, hair and nails. The refreshing tropical taste is a welcome treat in the mornings.
Ingredients:
1 ½ cup chilled filtered water
1 small orange, peeled and quartered
1 cup frozen organic raspberries
½ cup frozen organic mango
3 tbsp (15 mL) shelled hemp seeds
1 scoop (2.6 g) Collagen30 powder
1 tbsp unsweetened coconut flakes to sprinkle on top (optional)
Instructions:
Peel and quarter the orange. Remove seeds.
Place all ingredients in the blender.
Blend for 30 to 60 seconds, until smooth.
Pour into a glass and sprinkle with coconut flakes for a crunchy texture!
Protein supplement option
1 scoop vegan protein powder. Consuming protein in the morning helps maintain blood sugar levels and reduce mid-morning hunger pangs.
Ingredient Tips
Choose organic fruit when you can to reduce exposure pesticide residues.
To get the desired consistency, add or reduce the amount of water you use.
Frozen bananas add creaminess to your smoothie. Peel, chop, and store in a freezer bag.
Chia seeds, flaxseeds, and shelled hemp seeds also thicken smoothies if you prefer not to use a banana. All these seeds contain healthy fats, protein, fibre, and other nutrients, so it's nice to have them all stocked in the pantry to choose from.
Blending Tips
A powerful blender is the best choice when using frozen fruit and including ice cubes.
Follow the manufacturer's suggestions for loading the blend for best outcome. For example, bottom-loading blenders often recommend adding the liquids first, followed by soft foods and powders, then frozen and ice cubes on top.
For convenience, have ½–1 cup water on hand if you need to reduce the thickness once blending has started.