Quick & Delicious Budget Pantry Recipes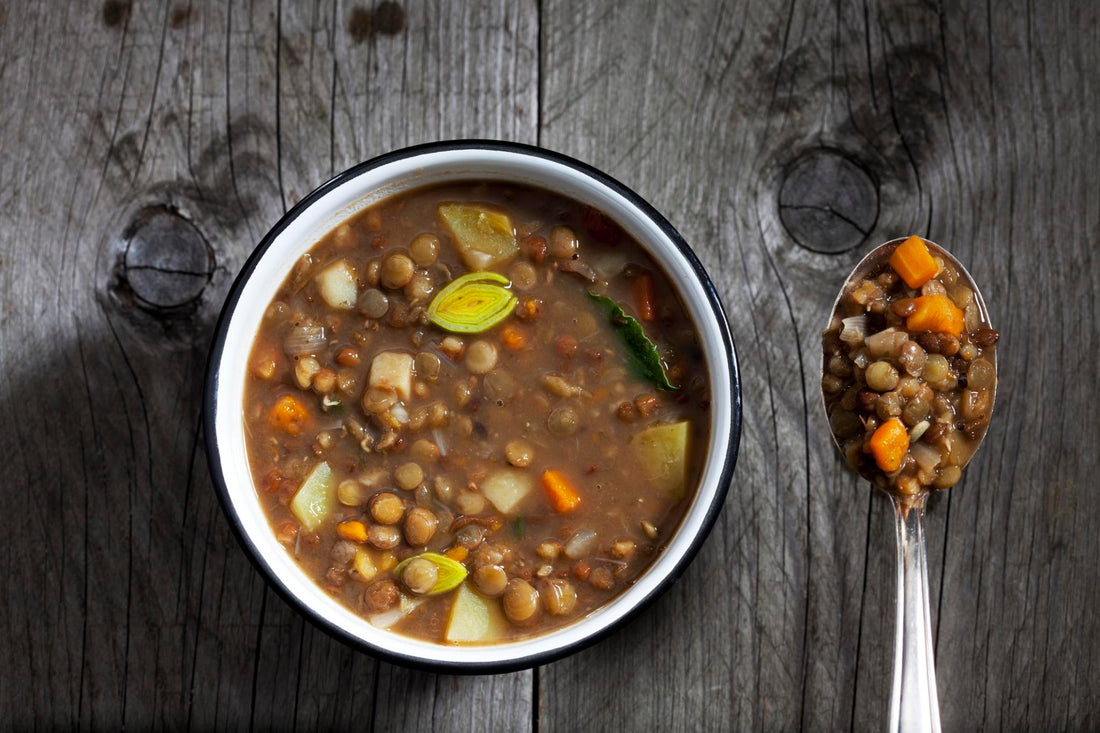 Want to clear out your pantry? If you're looking for some new inspiration for recipes using ingredients you probably have at home, you've come to the right place. These recipes are quick, delicious and budget-friendly, and also include fresh ingredients that you probably have on hand. We've also included some batch cooking ideas so you can stock up your freezer and refrigerator for easy meals during the week. 
First, here are some basic pantry staples to consider stocking up on:
| | |
| --- | --- |
| Pulses (e.g., dry beans and peas, chickpeas, and lentils) | Beans |
| Pasta | Rice |
| Noodles | Flour |
| Sugar | Spices and dried herbs |
| Canned tomatoes | Soy sauce |
| Coconut milk | Anchovies |
| Olives | Mustard |
| Canned tuna | Curry paste or sauce |
| Textured vegetable protein (e.g., Soy Curls™) | Vegetable stock or bouillon |
Consider having some basic vegetables on hand, such as onions, garlic, potatoes, and carrots. You might also want to stock your refrigerator with tofu, yogurt, limes, and lemons. Canned and frozen vegetables and beans are other great additions to any pantry.

1. Pantry Thai Green Curry
Thai curry feels fresh and comforting all at once and is great to cook in large batches (minus a few last-minute additions each time you reheat).
The basic ingredients for a green curry include:
| | |
| --- | --- |
| Cocounut milk | Veggie stock |
| Soy sauce | Sugar |
| Thai green curry paste | Onion |
| Bell pepper | Zucchini or snap peas |
| Sweet potato | Green beans or broccoli |
| Lime | Basil |
| Bamboo shoots (canned) | Water chestnuts (canned) |
Check out a delicious recipe from the New York Times using most of these ingredients.

2. Chili Supreme
Probably the simplest and most comforting of budget batch recipes, chili is always a crowd pleaser (even when you're staying away from crowds).
Everyone has their own special chili recipe, but the basic ingredients include:
| | |
| --- | --- |
| Olive oil | Onion |
| Garlic | Protein (ground beef or meat substitute) |
| Kidney beans and/or black beans (canned) | Canned tomatoes |
| Tomato paste | Water |
| Chili powder | Ground cumin |
| Cayenne | Garlic powder |
| Onion powder | Brown sugar |
| Salt and pepper | |
Customize your chili by adding zucchini and bell peppers, or try poblano peppers for a southwest flavour. You can also add jalapenos if you're feeling daring, or go for diced sweet potato or squash for a sweeter chili. Personally, I like to add frozen corn and peas to my chili!

3. Tex Mex Beans on Toast
Using a whole host of pantry staples, this fast, nutritious meal is great for solo dining. You can also easily double or triple the quantities to feed a family.
You'll need:
400 g can chopped tomato
2 spring onions, finely sliced with whites and greens separated
2 tsp ground cumin
2 tsp mild chili powder
1 tbsp brown or barbecue sauce
400 g can black bean, drained and rinsed
2 slices of bread
1 small ripe avocado
Lemon or lime juice
Natural yogurt
Check out this recipe at the BBC.

4. Super Simple Souped-up Baked Beans
If you have a couple of slices of bread and a can of baked beans, you have the makings of a delicious and wholesome meal. My top tip: cook up your beans and toast as usual, then add a dash of mustard and nutritional yeast for an extra hit of flavour and nutrition.

5. Pasta Salad for Everyone!
Delicious for dinner, pasta salad also makes for great lunch leftovers. And pasta salad is extremely versatile, so you can use a host of pantry staples to make a dish that suits the whole family.
One of my favourite ways to make pasta salad is to start by cooking up a big batch of whole wheat pasta. Then, toss the warm pasta in a purée of vegan mayonnaise, sundried tomatoes, capers, and olive oil. Add some finely chopped red onion and some pan fried faux chicken pieces (or regular chicken or bacon).
If you have broccoli, kale, peas, or peppers in your refrigerator or freezer, toss these in too for added vitamins, minerals, fibre, and flavour.
Pasta salad is great for batch cooking so you have something in your refrigerator for those days when you don't feel like cooking.

6. Pesto and Tomato Pasta with Crispy Crumbs
Using onions, garlic, a can of tomatoes, jarred pesto, olive oil, and some good old linguini or other pasta, you can cook up a tasty Italian-style dish in no time. And, if you have some stale (or fresh!) bread and hard cheese around, crispy crumbs make a delicious topping for this meal. Check out the recipe at the BBC.
If you don't have parmesan, don't worry! You can make your own parmesan substitute in just a couple of minutes. Throw a handful of Brazil nuts and/or almonds into your food processor along with a little salt and a heap of nutritional yeast. Grind it up and then sprinkle this vegan-friendly "parmesan" on pasta, chili, rice dishes, and more!

7. Carrots and Lentils
It sounds simple, but don't let that fool you into thinking it's not tasty and nourishing. This meal uses simple staples from your pantry and refrigerator and cooks up fast. You can even make a big batch and serve it with rice for dinner and with flatbreads, naan, or pitas for lunch. You can even make a baked burrito with the leftovers!
All you need for this recipe is:
Olive oil
Onions
Tomato paste
Carrots
Green lentils
Salt and pepper
Garlic
Yogurt (optional)
Check out this recipe at The Guardian, along with lots of other fantastic budget recipes for store cupboard cooking.